Education
Laboratorium organises workshops, lectures and participates in the academic programme of KASK within the topics as colors, biomaterials, Art+Science and DIYbio. Here you can find info of the previous activities organised as well as a list of the upcoming events.
Mar Menor Lab: Art+Science in an emergency landscape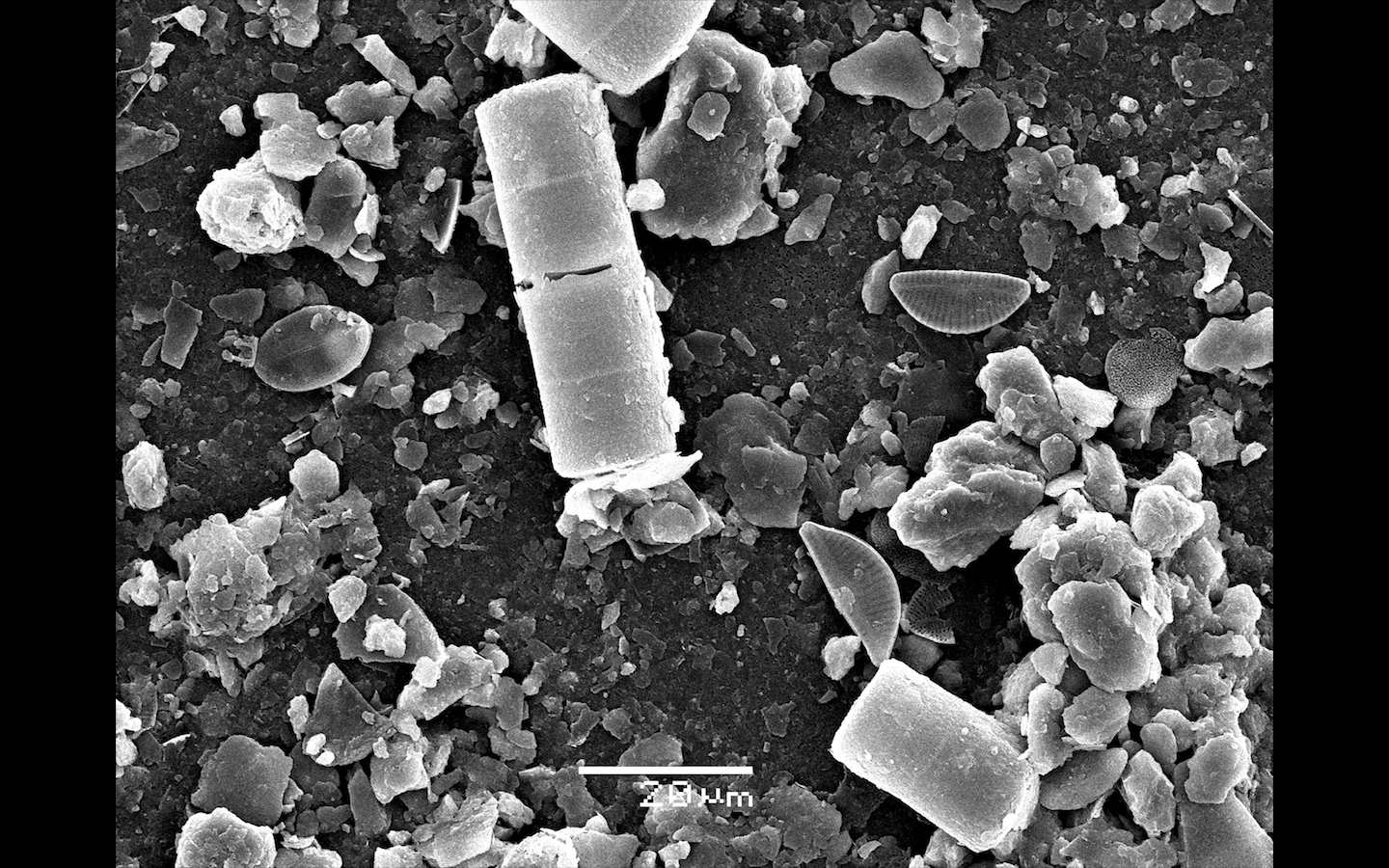 From 09-11-2018 to 09-16-2018 in Mar Menor, Murcia (Spain), we will participate in the summer school about art and ecology, Mar Menor Lab: Art+Science in an emergency landscape with the project "Land of Diatoms" together with Susana Cámara Leret. During this summer school, "Land of Diatoms" proposes the creation of a mobile lab, addressing the reconfigurations of the territory through the migrations of live diatoms in the Mar Menor.
Grow your own spirulina algae!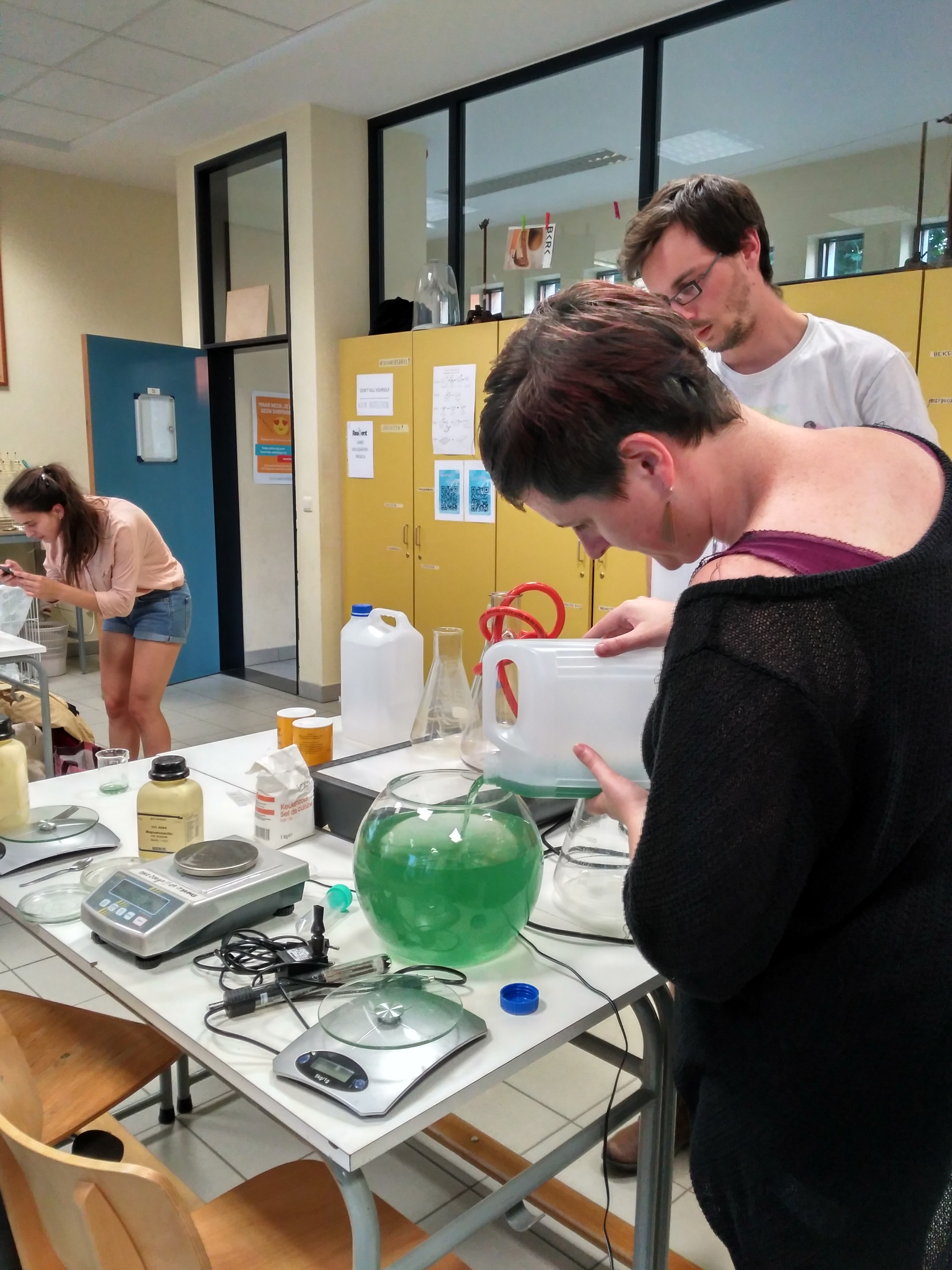 First session in collaboration with ReaGent about how to grow spirulina at home: from the starter culture to the final product.On June 6th at 19h. Second session: algae application in fabric. On June 20th at 19h. Location: ReaGent (Wispelbergstraat 2 9000 Gent)
Wood Fungi Conference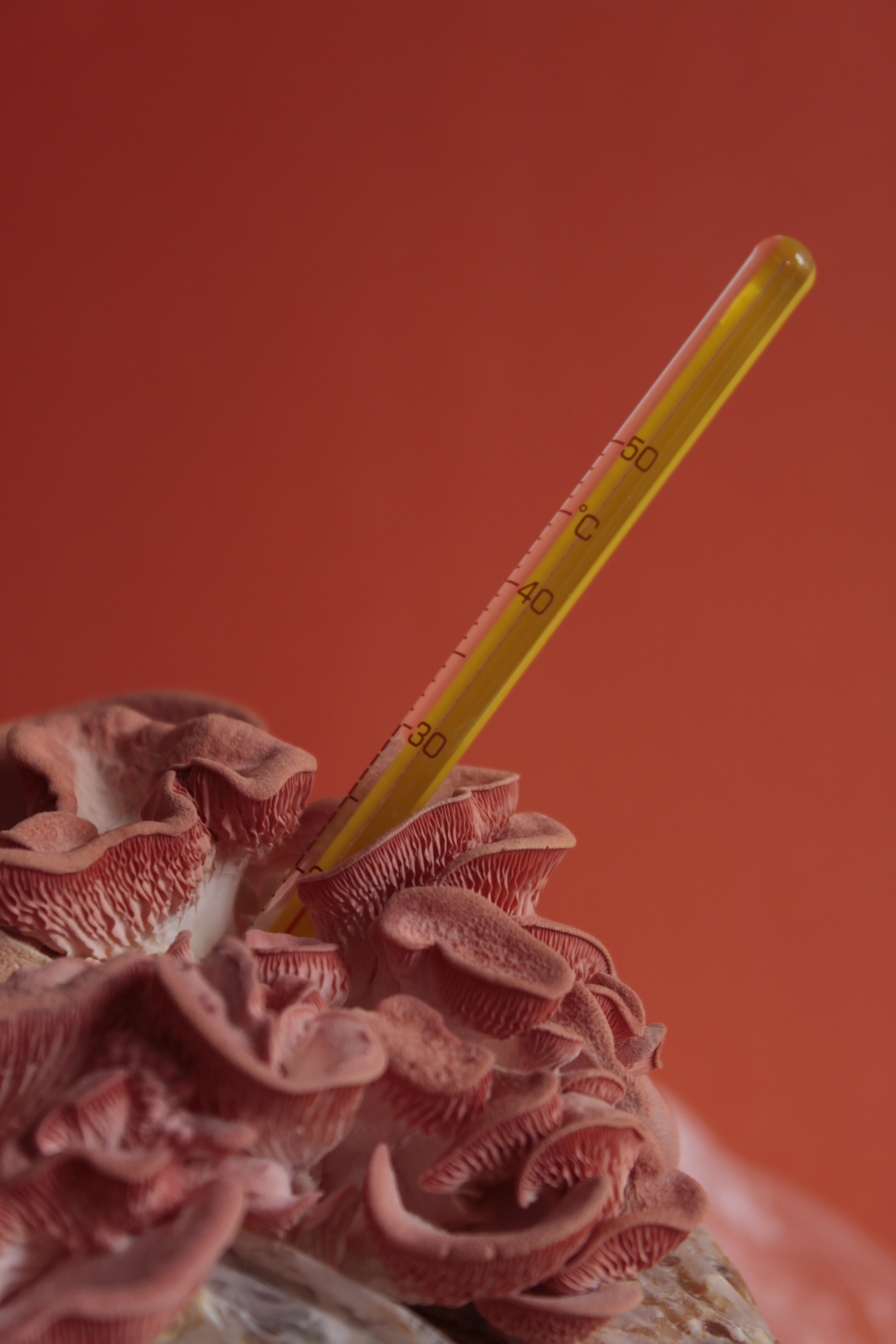 As part of the collaboration with Mycelia and Zeger Reyers, we will present the results of The Colours of the Oyster Mushroom workshop during the Wood Fungui Conference celebrated in Handelsbeurs, Ghent. June 3rd-6th.
Workshop Hack the Pigment // Spirulina Session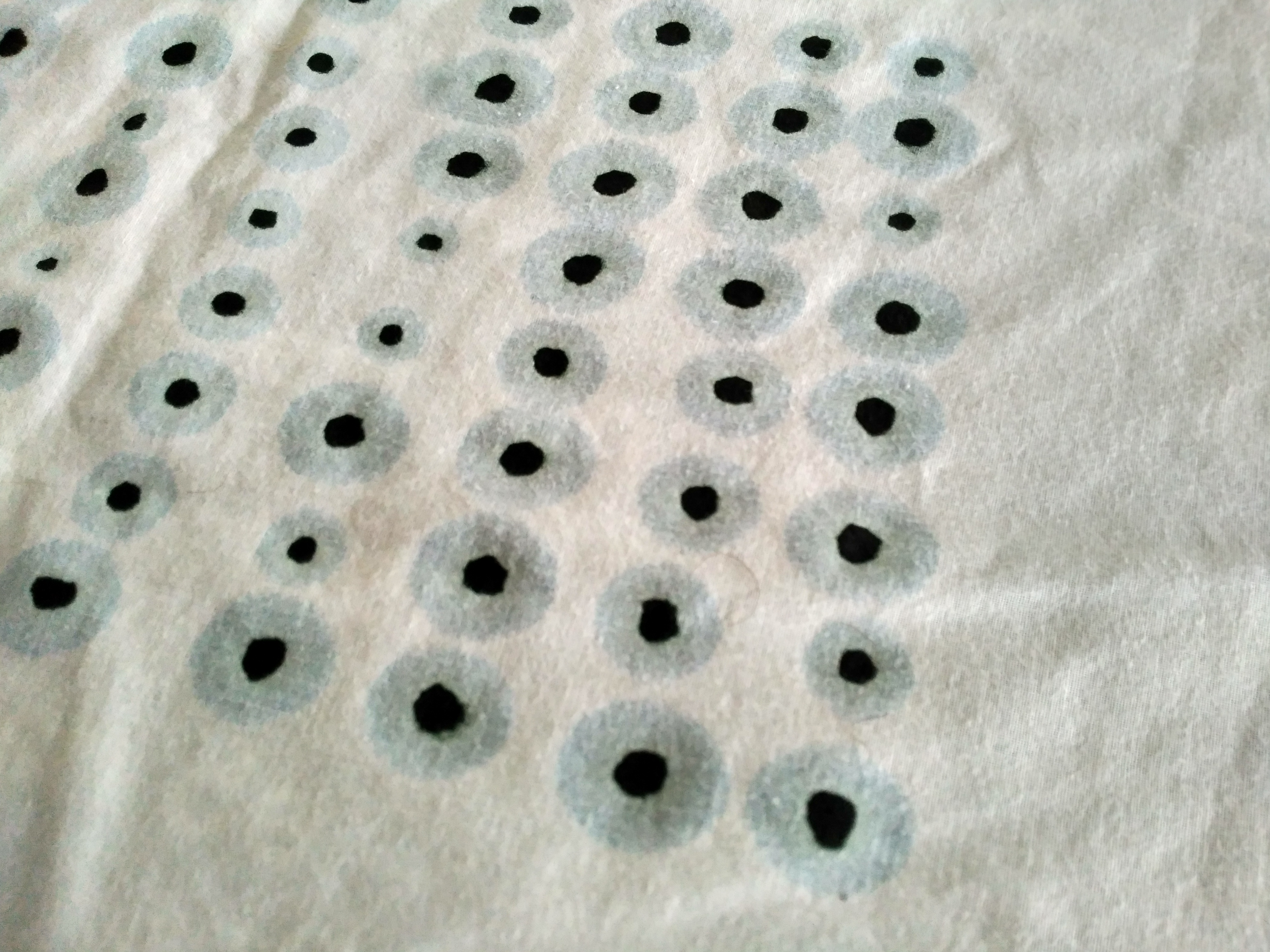 Het Werkhuis, in collaboration with Laboratorium and Wabi.labo, organizes a workshop on Spirulina (cyanobacterium Arthrospira). Spirulina is not only a food supplement but a rich source of natural colors such as carotenes (orange), chlorophyll (green) and phycocyanins (blue). In this workshop, you will learn how to grow spirulina at home and use it as a pigment for textile printing. By controlling the degradation of the pigment, you can have a wide range of blue and green colors that will change on your fabric over time. Together we will look for the possibilities in different printing techniques, and you will go home with your own creation and the necessary knowledge for carrying on your own experimentation. "Hack the pigment sessions" is an open source study of the use, creation and formal application of colors.
Gent aan Zee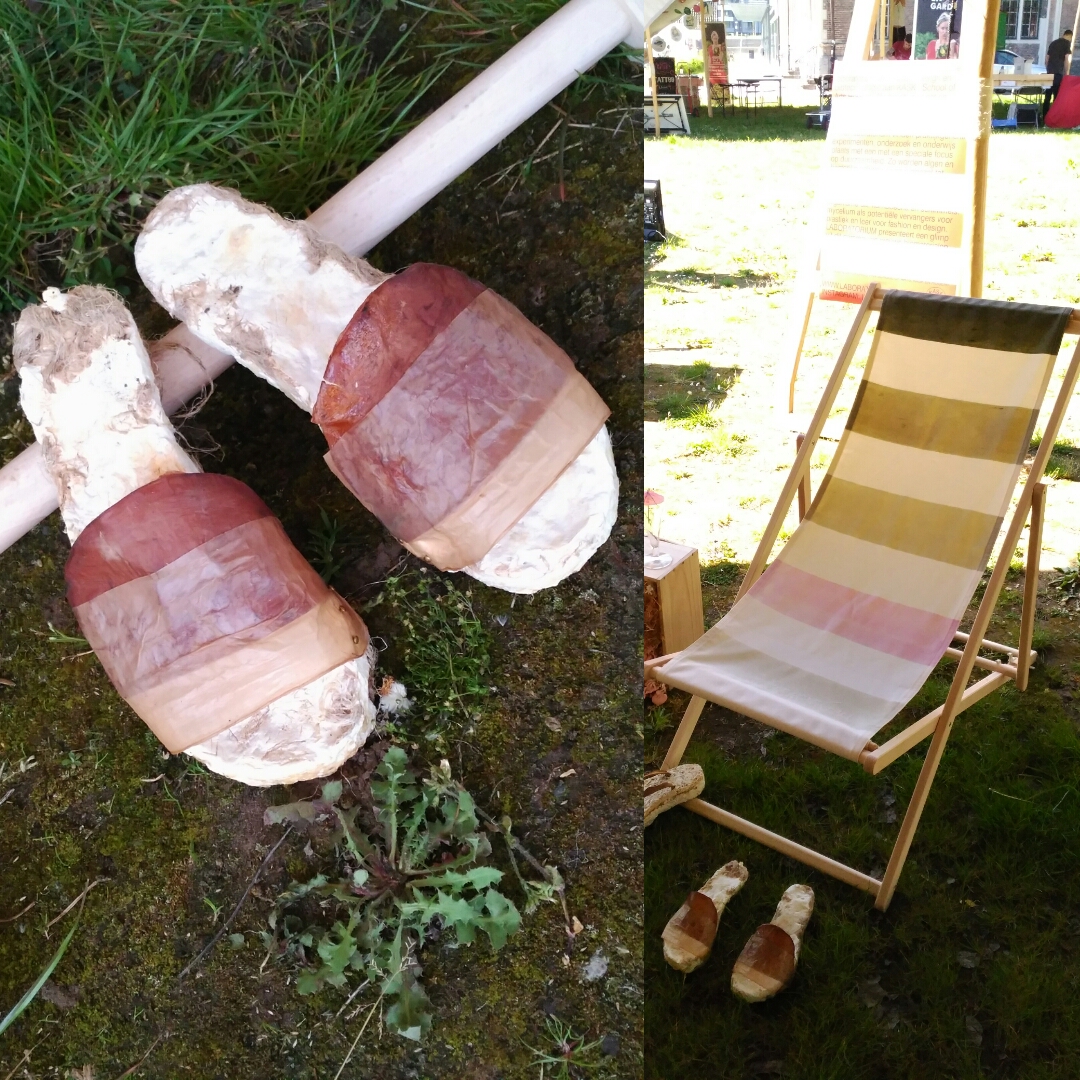 During the climate festival 'Gent aan Zee', Laboratorium presented its research on sustainable materials through the construction of a beach setting. Visitors were able to sit in chairs printed with algae, wear mushroom flip-flops, embroidery bacterial leather and use their creativity for painting with sustainable pigments a parasol. Gent aan Zee is a climate festival in the Bijloke where organisations, individuals and companies show initiatives developed in Ghent to combat the climate change by proposing sustainable alternatives to daily life activities.
Future Materials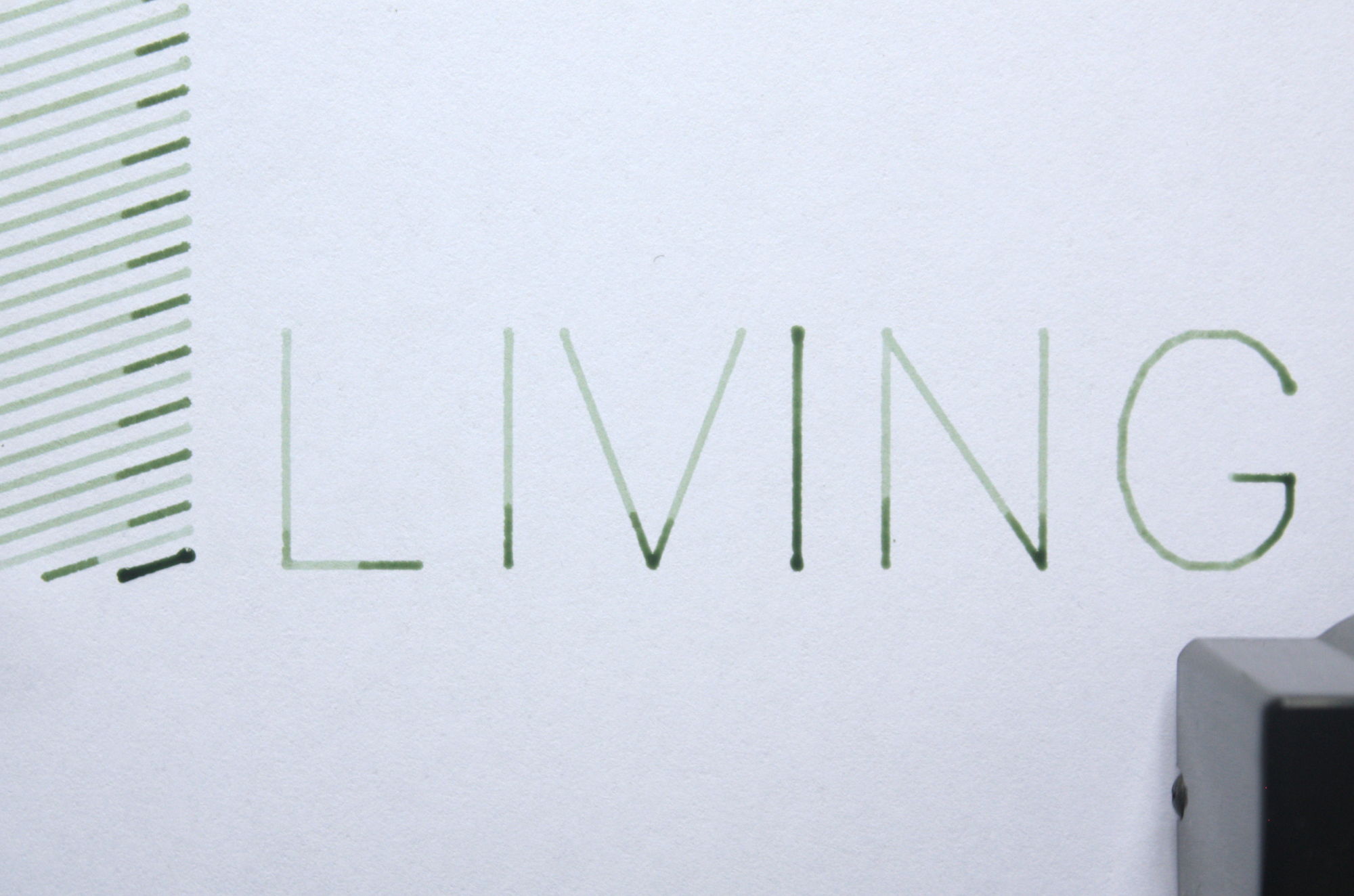 A poster printed with algae ink was presented in the exhibition Future Materials organised by Handmade in Bruges. The poster was made by using inks derived from the Color Biolab research project and designed and printed by Open Source Publishing. This exhibition shows the possibilities of using bio-based innovative sustainable materials by craftsmen: experimentation and/or application.
Opendeurdag KASK 2018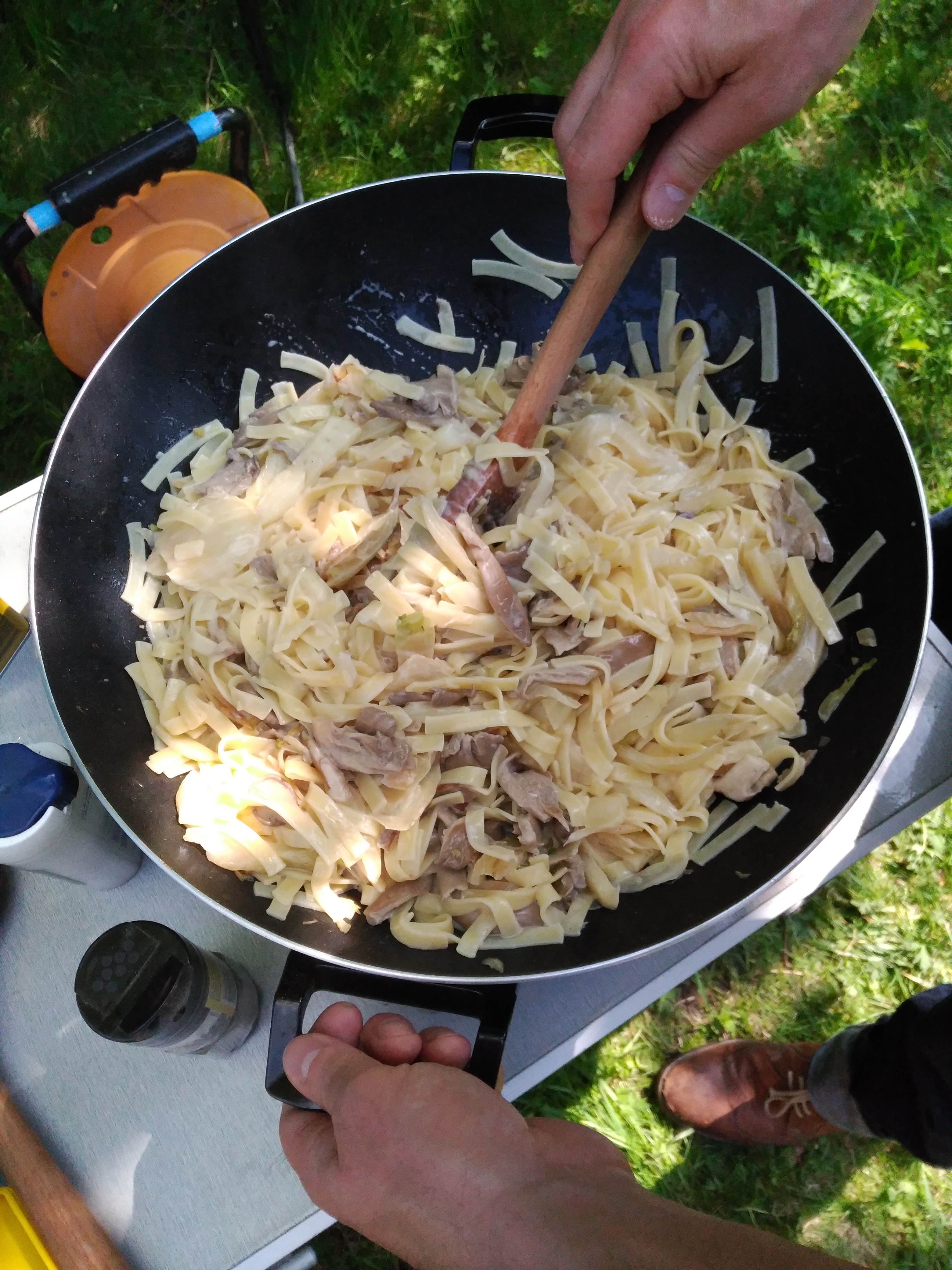 During the school Opendeur dag in the greenhouse located in one of the gardens of KASK the results The Colours of the OYSTER MUSHROOM workshop were presented: How to grow oyster mushrooms step by step, how to cook them or use them as an artistic artefact. Growing brushes, newspapers, jackets or chairs were full of delicious mushrooms that were tasted following the "Fennel- Oyster mushroom pasta By Pien & Zeger Reyers" recipe.
Projectweek 2018: Algae print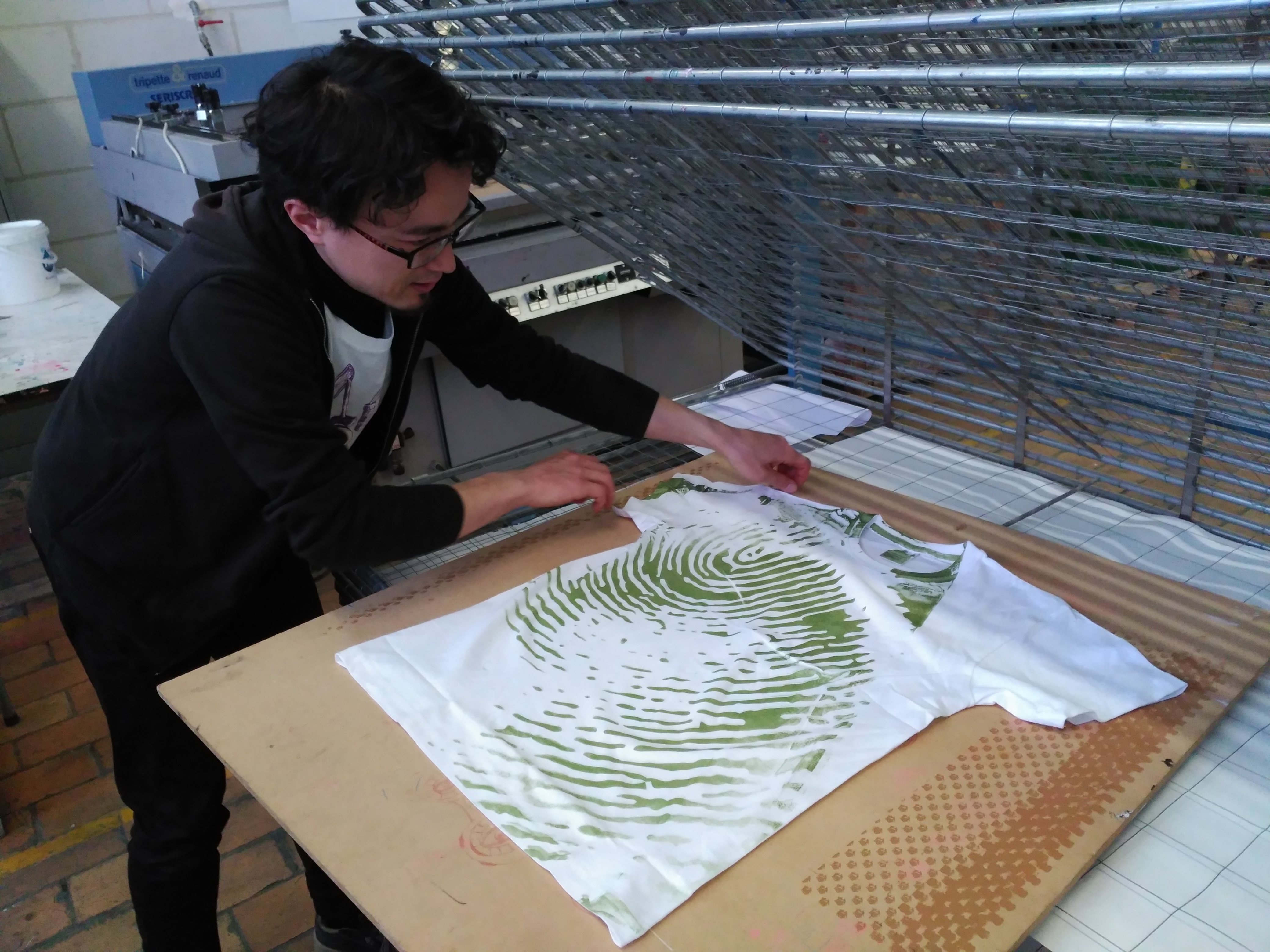 A group of students from the fashion department designed five iconic fashion motives to be printed with algae: animal, cashmere, flowers and pied de poule. The green-blue print derived from the algae was later applied in fabric, paper, and second-hand clothes.
Colour Day Conference 2018
For the Belgian International Colour day in La Cambre, Brussel, we had the opportunity to present our work (The Color Biolab: transdisciplinary research on color) and discuss with other color professionals topics as color psychology or color biology.
Project week 2018: The Colours of the Oyster Mushroom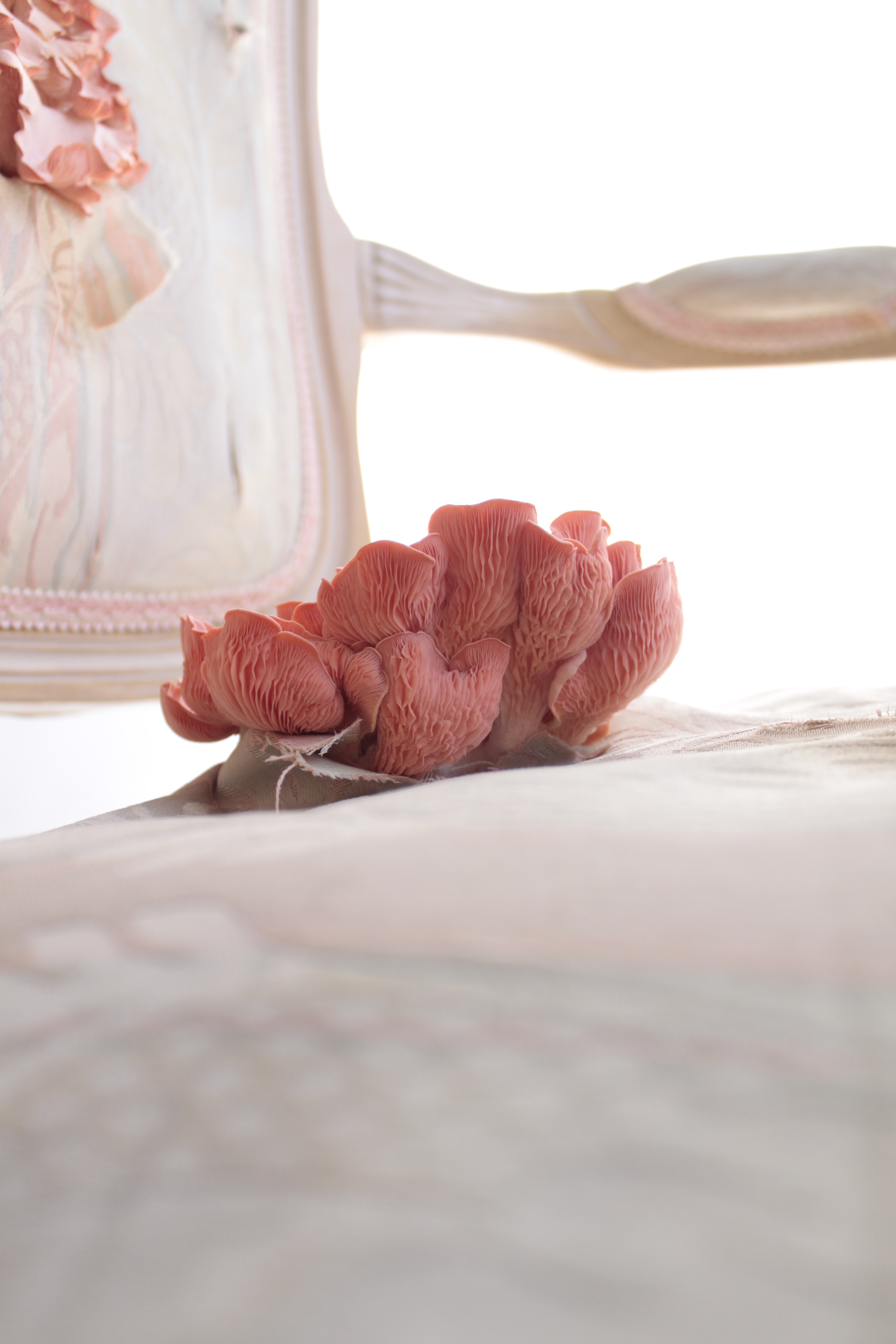 The experimental bio lab for art and design LABORATORIUM offered a workshop about oyster mushrooms. We focused on the life cycle of the oyster mushroom where waste becomes food. Meanwhile different disciplines were touched: from biology, landscape architecture, economics, installation building, documenting colours, to the art of cooking. Oysters are one of the most versatile mushrooms and very edible. They are easy to cultivate and common all over the world. Oyster mushrooms can be beneficial to the body and break down toxic chemicals. They are also very beautiful and grow in a broad spectrum of colours. By starting to grow them on several objects, we were taught and led by artist and mushroom expert Zeger Reyers (NL) and the KASK LABORATORIUM to transform different objects as substrate for this organism.
Experimenteel Zeefdrukken Met Algenverf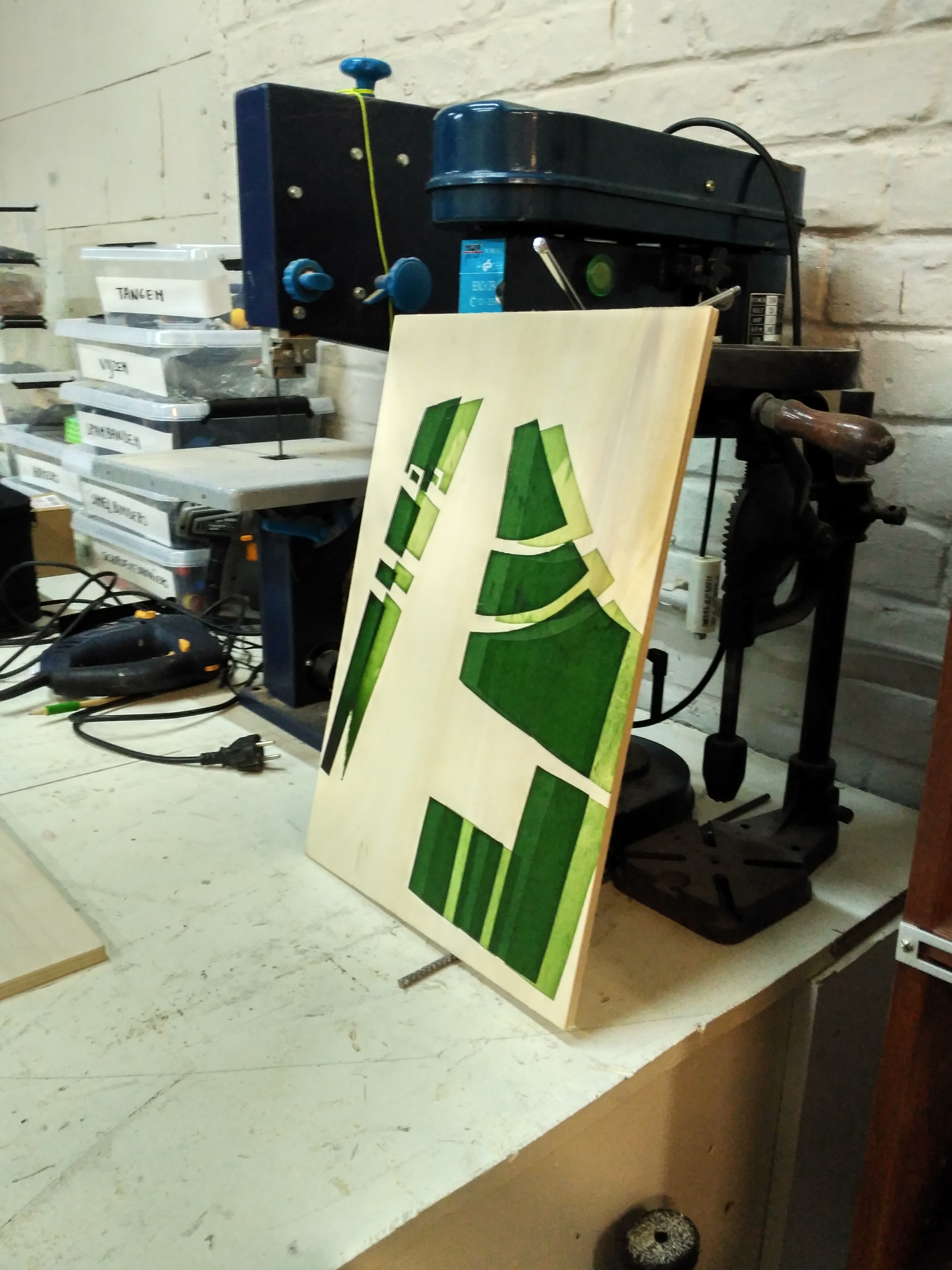 Twelve participants between 12 and 18 years old experimented with spirulina and screen printing in the Batterie. After an introduction about algae, algae pigments and how to grow them at home, participants made screen printing in wood by using spirulina.The printing patterns were a selection of participant's special points in google maps, and the green shades were obtained by mixing spirulina with the screen printing binding product.
This workshop was organised by Handmade in Brugge in collaboration De Batterie and LABORATORIUM
Master seminar Art Science and Technology Interactions 2018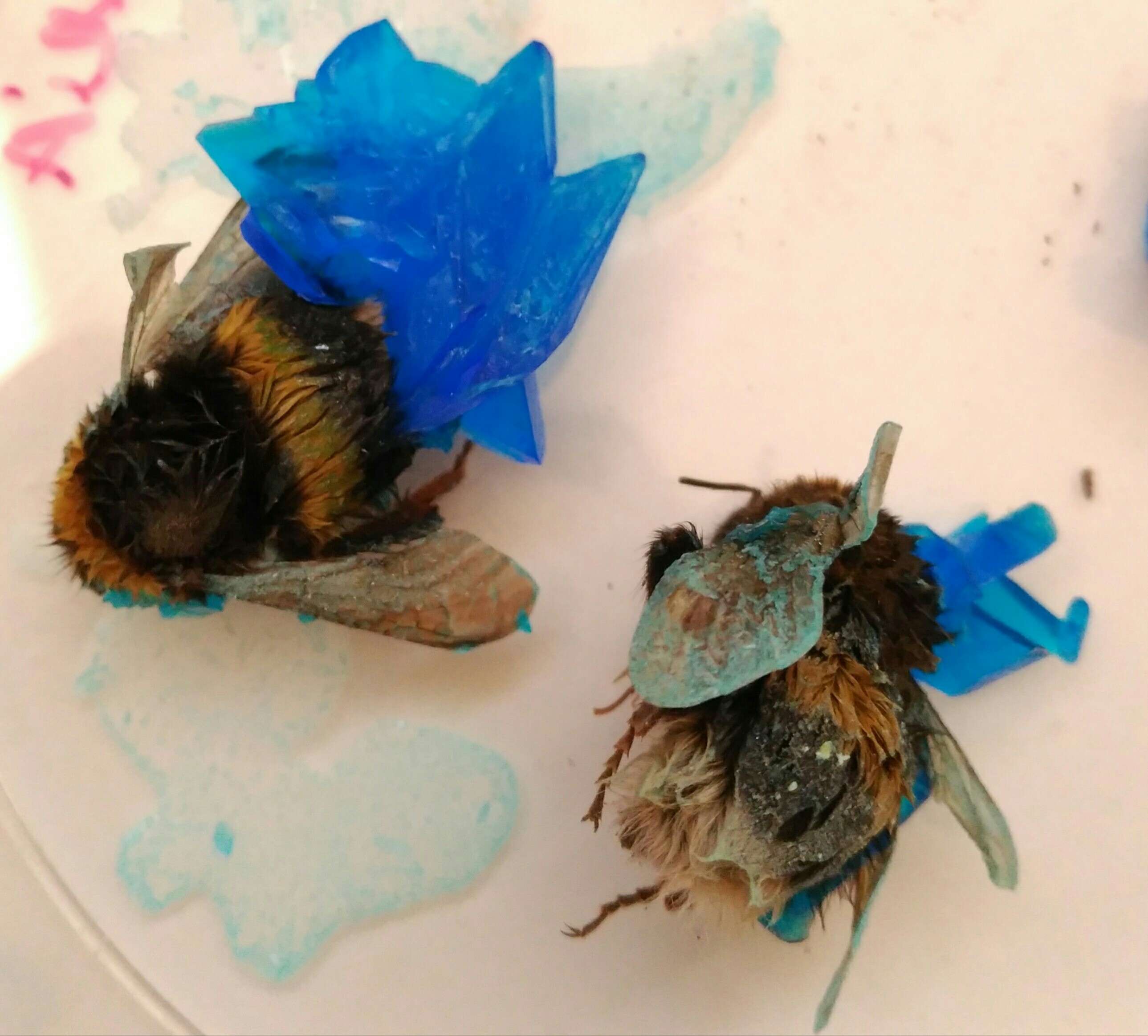 In this second edition of the Master Seminar Art, science and technology interactions participants had an introduction about bioart, biodesign and the role of science in our daily culture, together with a wide number of scientific experiments performed in the lab. Living organisms as yeasts, bacteria, algae and protozoa, chemical reactions as B-Z reaction or crystallisation processes are part of this seminar that pretends to show and reflect in the possibilities of new materials and methodologies in art and design practice.
The guest speakers were Zeger Reyers, Bram Crevits and Kristel Peters.
Prepositions in Artistic research Symposium
For the conference Prepositions in Artistic research, organised by Arts Platform Brussels and ARTO, Laboratorium presented LABORATORIUM: experimental biolab for Art-Science research. Art-Science projects are becoming more and more popular. Scientific institutions are inviting artists to participate in their research, offering space, expertise and equipment. But what about performing scientific research within an artistic context as an art academy? What kind of cross- pollination will be the outcome? In this conference we questioned the methodology followed, the knowledge generated, as well as the language and context to present and communicate the outcomes in a transdisdiplinary research.
WoooW Festival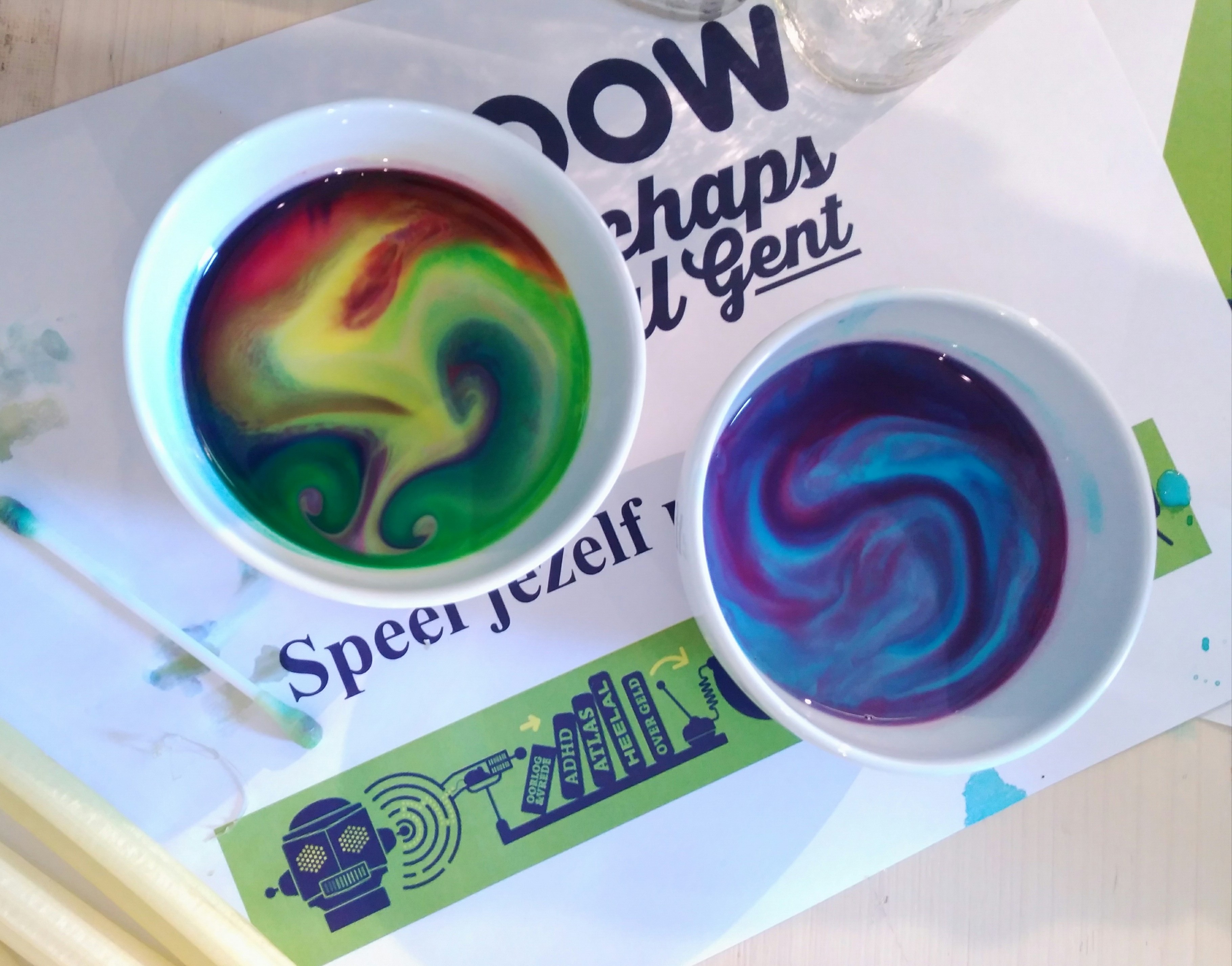 LABORATORIUM participated in the science week 2017 with a workshop on color in MIAT. In this workshop pH, density, surface tension, capillarity and other scientific concepts were explained while doing colorful experiments with a group of young scientists/artists.
[More info] (http://www.wooowfestival.be/nl/programma/kinderen/leer-meer-over-kleur.html)
Belgian Society for Microbiology Conference
Belgian Society for Microbiology Conference
We present the results of our collaboration with the Center for Microbial Ecology and Technology (CMET), Ghent, Belgium in the Anual Conference of Belgian Society for Microbiology. Inspiring photographs, colorful bacterial drawings and original designed lab-tools were obtained as outcome, reflecting on the limit between both disciplines, the aesthetic of science and the use of living organism for artistic proposes. This project aimed to establish a dialogue between art-science, questioning traditional parameters of scientific and artistic production and opening new approaches to academic research to improve, optimize and extend the outreach activities in both areas of knowledge.
Traditional dyeing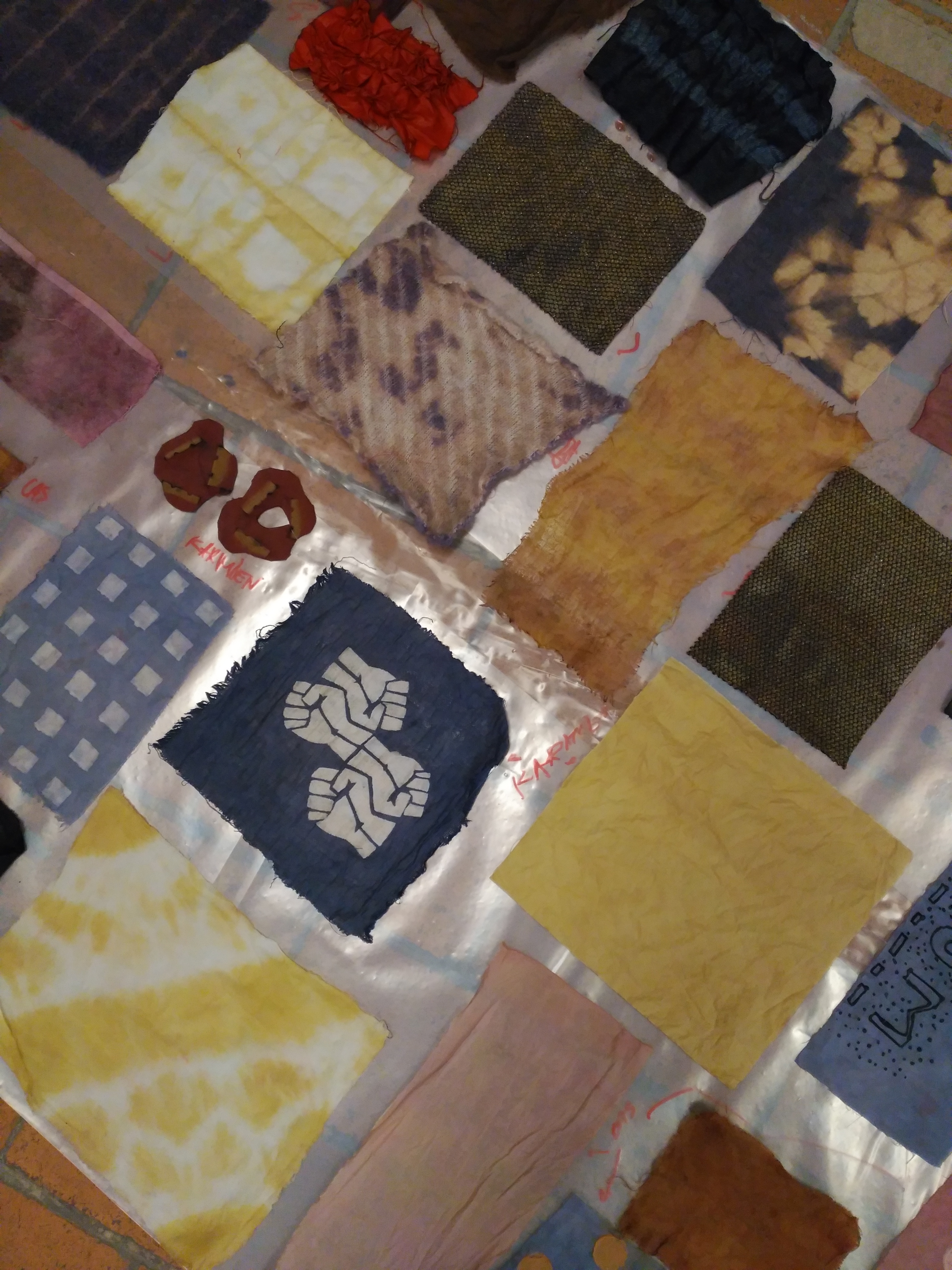 In collaboration with the fashion department from KASK, we did an introduction course on natural dyeing by using madder, weld, cochineal, logwood, buckthorn bark, and alkanet. A wide range of red, yellow, blue, purple and green colors was obtained as result of different dyeing materials in combination with different mordants.
X-Ray: Laboratorium @KASK
Thursday 18 May 2017 at 20h30
Friday 19 May 2017 at 20h30
Saturday 20 May 2017 at 20h30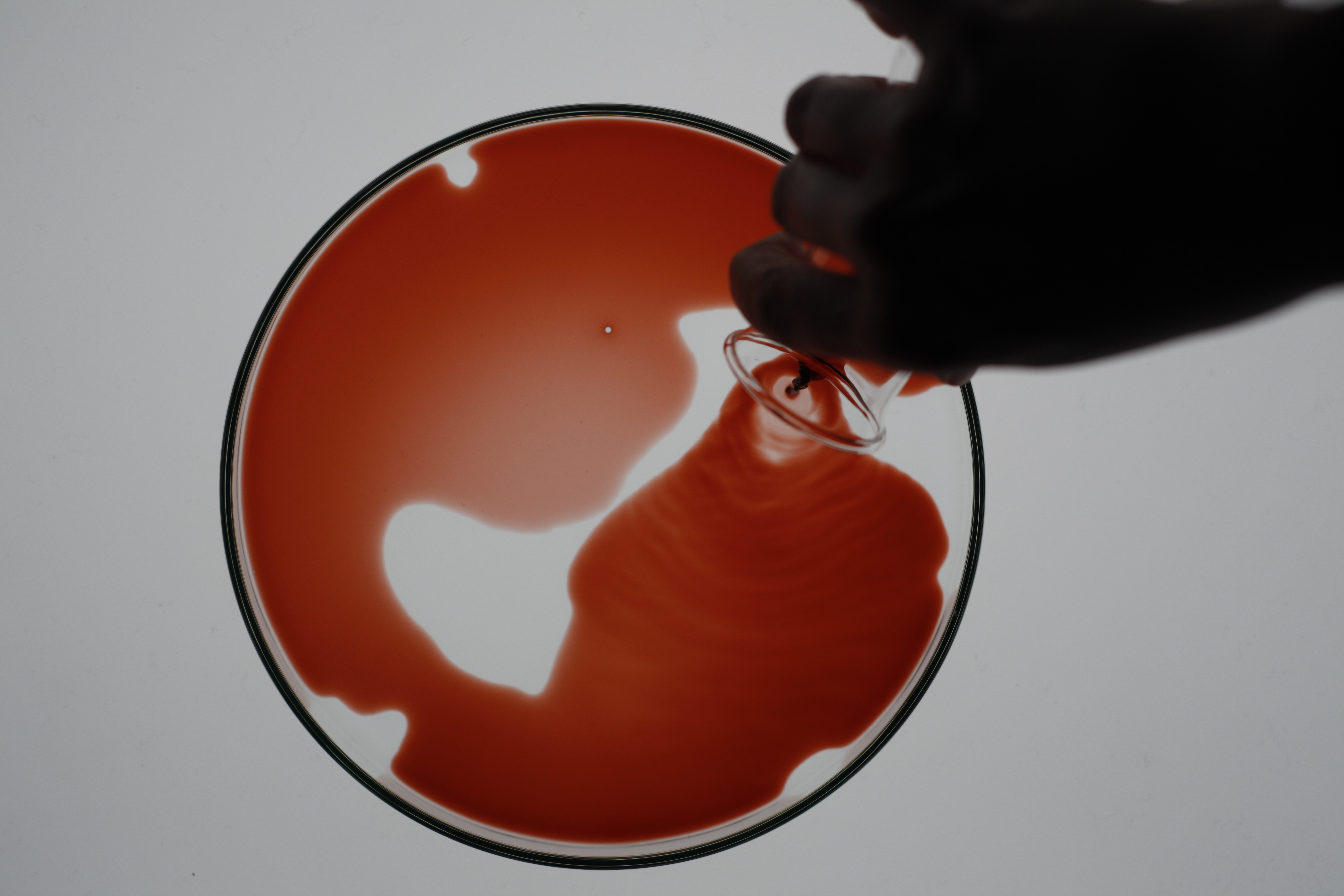 X-Ray: Laboratorium explores the boundaries between art and science by presenting a group of short films where the filmmakers have entered in the laboratory looking for inspiration, tools and methodologies. Full of intriguing images, between the natural and the artificial, the organic and the inorganic, X-Ray: Laboratorium ranges from chemical reactions to space research.
X-Ray: Laboratorium is compiled by Joost Rekveld and is organized in collaboration with LABORATORIUM, the experimental lab for art/design and biotechnology at Atelier Mediakunst, KASK School of Arts Ghent.
Master Seminar: Art, science and technology interactions 2017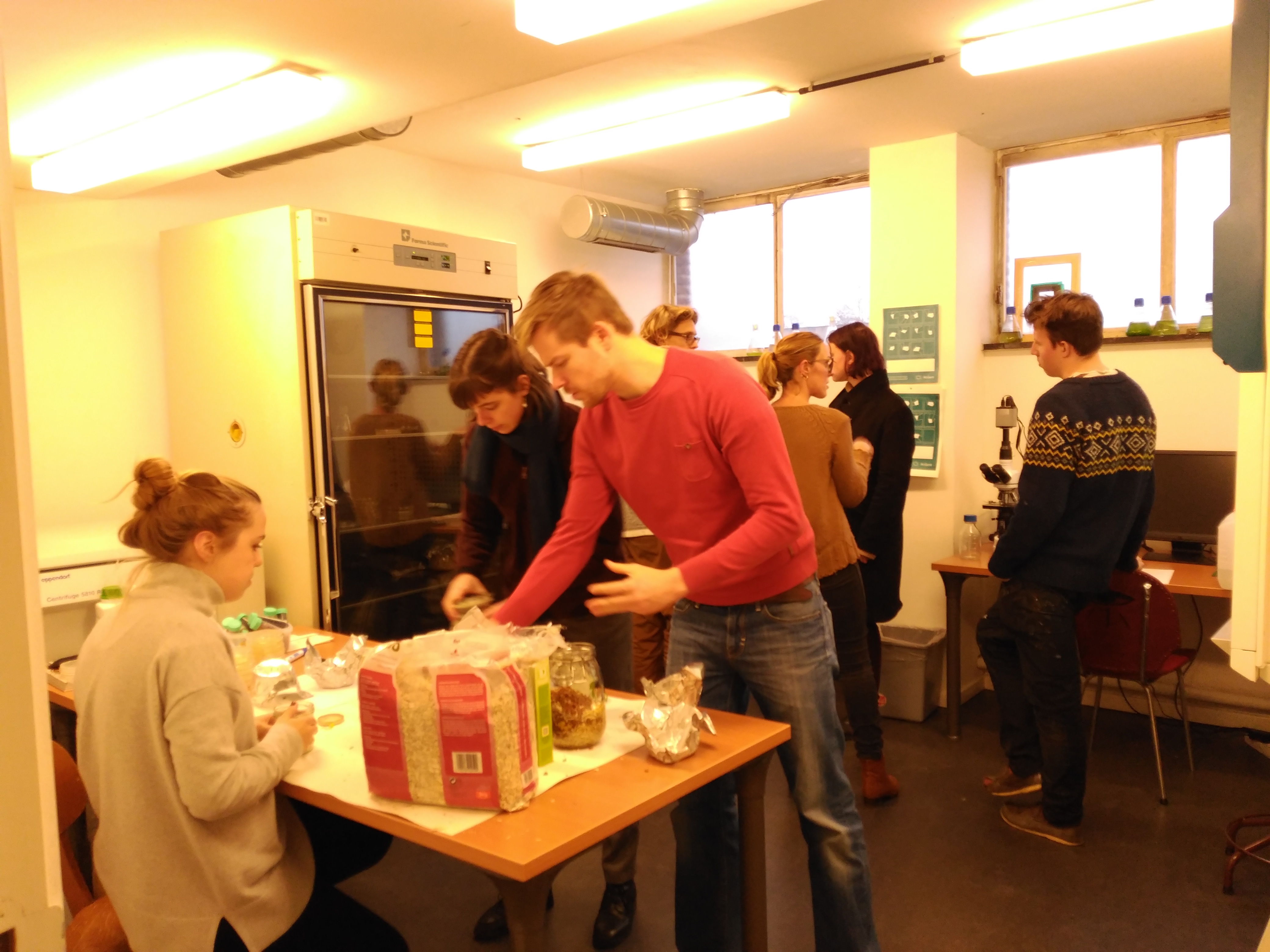 In the past few decades there is a growing number of art, science and/or technology collaborations. This seminar offered the possibility to explore the interactions between these fields and places this contemporary phenomenon within a larger cultural, historical and political context.
KASK's recently installed experimental bio-lab for art and design 'Laboratorium' functioned as the concrete starting point for the seminar, led by Bram Crevits (Media Art) and María Boto (Science).
Not only the emerging biotechnology has provided tools, materials and methodologies to artistic creations but also this intersection generates questions and discussions that traditionally have been limited to the scientific community. On the other hand, new approaches to a certain topic could bring unexpected solutions or research lines that rarely would be obtained in traditional academic contexts. Collaborations between art and science engage explicitly in the fields of change of our socio-technical world. Both from a cultural or artistic approach and from a scientific or technology approach, it is a context requiring openness,challenging and expanding both the notion of art and of science.
The aim of this seminar was to give a general overview of art-science collaborations by presenting several examples, developing a critical approach to them, and exploring hands- on possibilities and challenges of the dialogue between science and artistic research.
Guest speakers: Paula Pin, Kristel Peters, Peter Beyls and Joost Rekveld.
Indigo workshop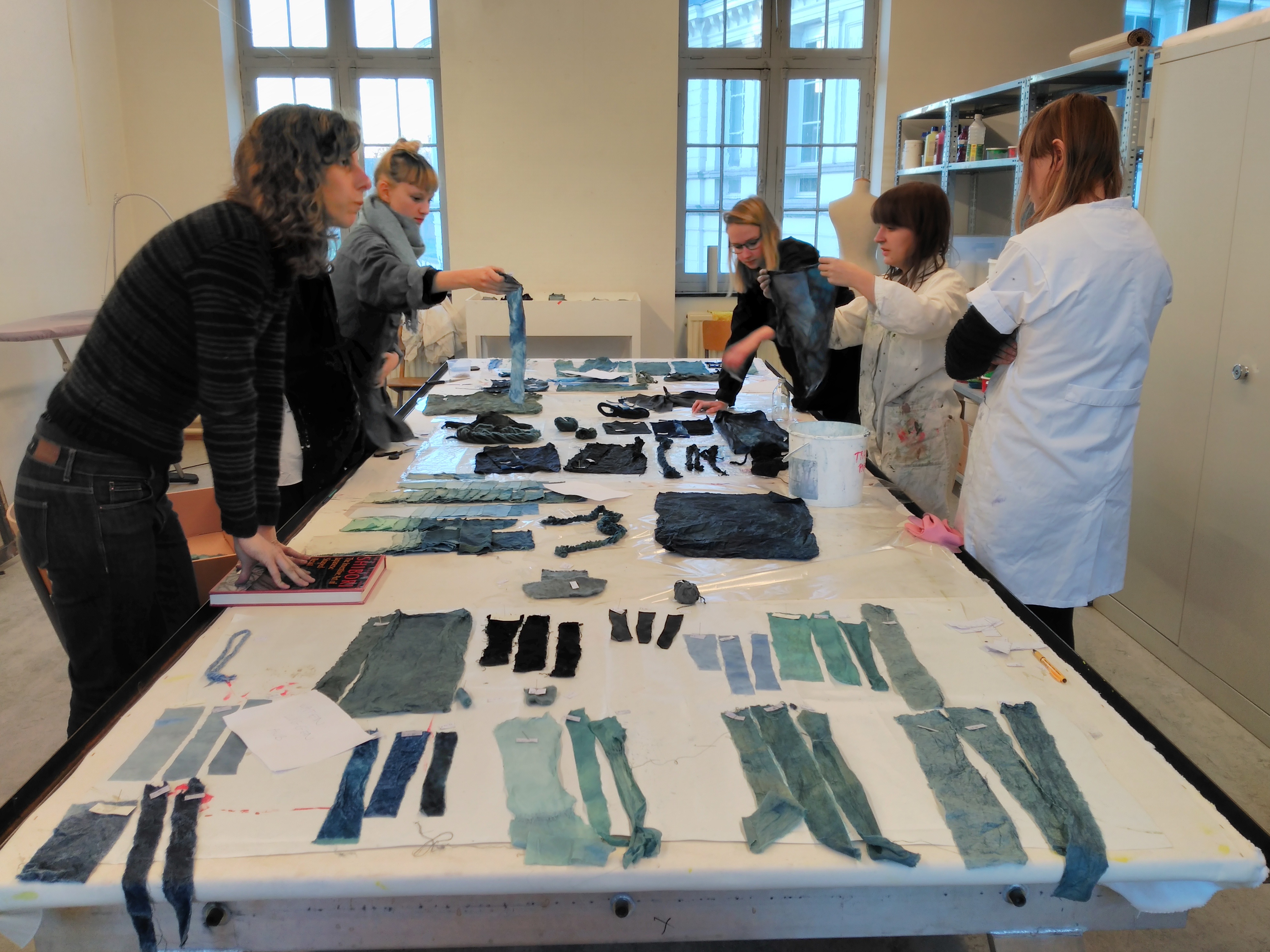 Together with the researcher Clara Vankerschaver, from the textile department, a workshop about indigo has been organized. Moving from the chemistry behind indigo dyeing to a practical experience with several fabrics, the participants are allowed to create beautiful blue shadows.
Vlaamse Wetenschapsweek in KASK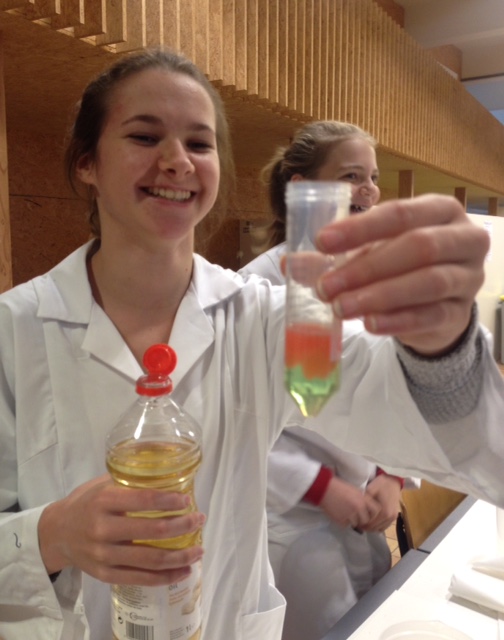 For the first time, the School of Arts KASK participated in the Vlaamse Wetenschapsweek with a workshop ran by two researchers from the school, Kristel Peters and María Boto. The workshop was split into two parts: the first part was focused on the mycelium, where the students were able to create their own mycelium sculpture, followed by the second part where color was used to explain several scientific concepts by creating ephemeral art pieces. Eight participants from Koninklijk Atheneum Voskenslaan experimented with biology, physics or chemistry, breaking the boundaries between art, design and science.
Colour and vision, Natural History Museum, London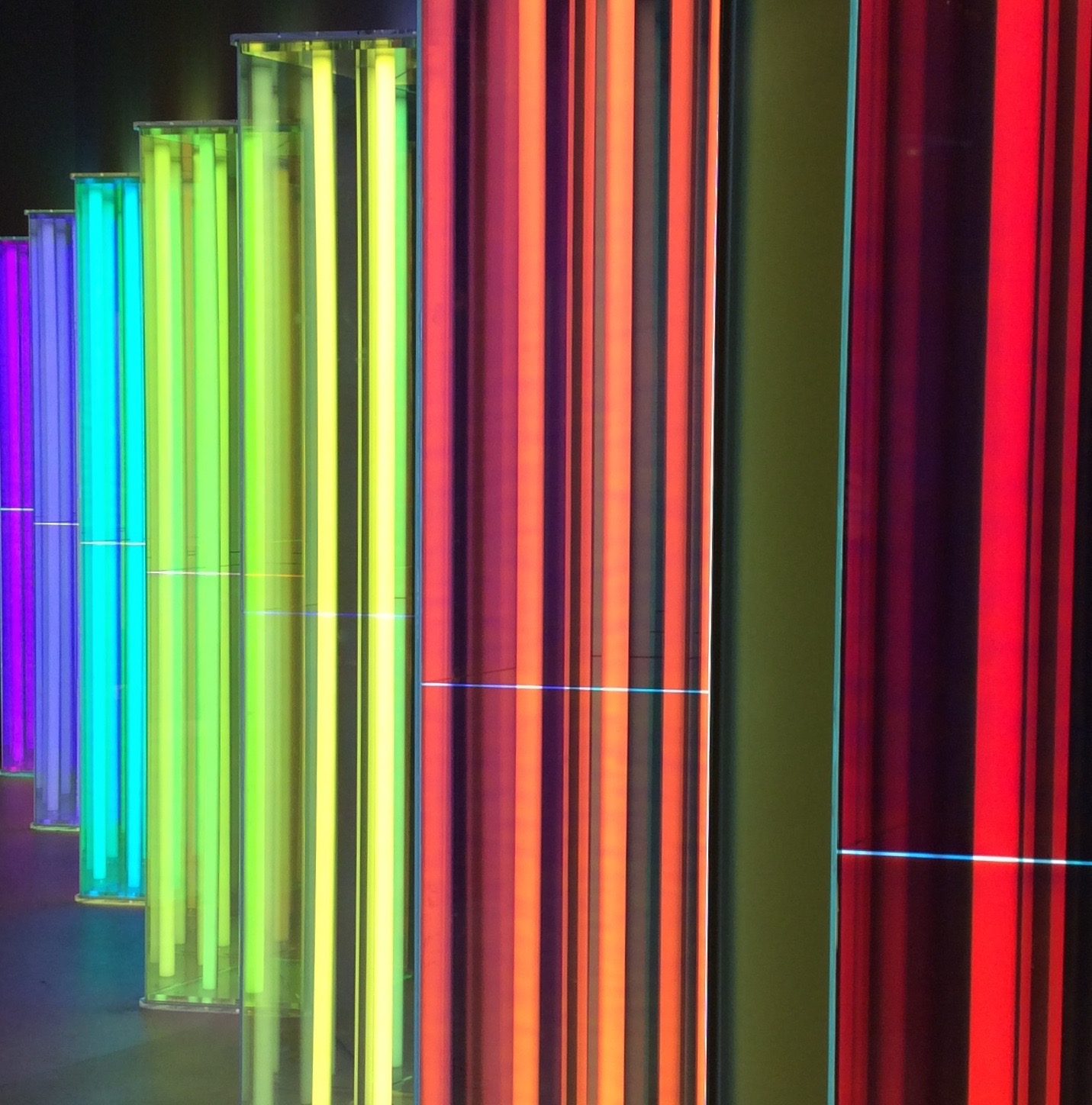 As part of the color research project developed in KASK, we had the opportunity to visit the exhibition "Colour and vision" at the Natural History Museum of London, and also to talk about colors with Dr. Suzanne Williams, a scientific researcher who helped design the exhibition content along with Dr Greg Edgecombe and Ms Fiona Cole-Hamilton.
We are surrounded by colors, and the gate to enjoy them is the eye. For that reason, the first part of the exhibition, after Liz West's art installation, was focused in the evolution of the eye, that unavoidably goes in parallel to the increase of colors in nature. The evolution from light sensors to much more complex structures supposed an important change not only for the living organisms themselves but also for the environment.
An overview from the Precambriam Eon until now shows the evolution of eyes: first fossils, specially trilobites, and then a wide range of existing animals with different eye structures: arthropods, molluscs, cnidarians, onychophora and finally mammals.
The second part of the exhibition was dedicated to color in nature. What is color, where it can come from and how we perceive and interpret it. Visible and non-visible molecules. Derived from natural pigments, complex physical structures and the combination of both. Color stability and its importance in nature: colors to survive and to thrive.
Pigments are carotenoids, melanin, flavonoids, porphyrins, etc. They are found in vegetables like carrots, in animals such as flamingos and in our daily life products. However, there are some colors that the human eye can not perceive, as the fluoresce red of porphyrins under UV light in some molluscs.
There is a clear idea about the reason why some colors are present in nature, but not in every case. In the exhibition, the presence of colors in some animals is shown as a way of camouflaging, showing status, gender identification, facilitation of reproduction and feeding, light harvesting, etc. The color of an innocent ladybird warns us of the toxicity of its body, and marine iguanas use dark colors to store heat before going into cold water.
At the end of the exhibition, a video invites us to re-think our capability as humans to see, perceive and feel, by listening to the two scientists responsible for the exhibition -Dr. Suzanne Williams and Dr. Greg Edgecombe- and two artists, Liz West and Neil Harbisson, colorblind but able to hear colors through a camera implanted in his head.