Projects
Laboratorium develops projects in collaboration with artists and scientists applying the research from the color biolab project.
Neochromologism.io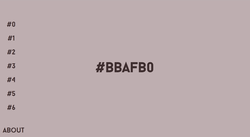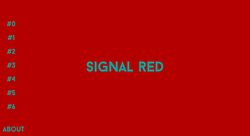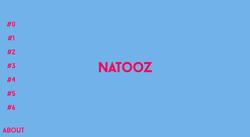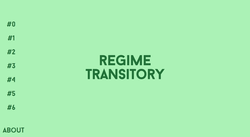 Neochromologism.io is an ongoing artistic website that aims to reflect about the color vocabulary that we are using in our daily life at professional and personal level by establishing connections between a color name and a meaning or experience.
The random RGB code generated for the website background is presented as hexadecimal code, a name following the rules presented above and gives also the possibility to the user of name it by creating a new color database.
This project has been developed by Laboratorium, the experimental lab for art/design and biotechnology at KASK/School of Arts Ghent, as part of the research project "The color biolab" funded by Arts Research Fund of University College Ghent in collaboration with Juan Luis Font, digital alchemy.
Relict of a Tropical Princess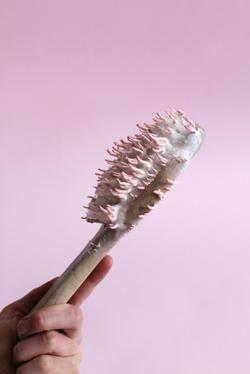 The object is a fragile artefact discovered by an extensive expedition to the remote island Lengguru, Neuguinea. The territory is characterised by an extremely high rate of endemic species. Over fifty researchers from Europe and Indonesia were involved in collecting data about the biodiversity when they found the trace of an undiscovered civilisation.
Work made by Vanessa Müller at Laboratorium
When Earth was a Lover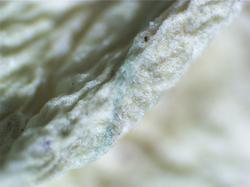 When Earth was a Lover is an experiment based on travelling through microscopic elements of our daily life in search of poetry, cosmos, perhaps wisdom, or just a glimpse of a weightless moment, meeting in confrontation with the mind and its daily occupations. out of many short films created, three of them have been displayed here together with texts that they have triggered. the words seem to be as if thoughts floating to the seen image, though also, inevitably, uncontrolled confessions. a mind let loose. a cloud-staring. an exercise of a daydream. an insight to the nature of our surroundings that make us, invisibly. as, to relate has been a matter of education and decision-making... the perception of time, the nature of things, the place of a human, questioned by child`s observations, close to the life, unconstructed, mighty.
Work made by Weronika Zalewska at Laboratorium
Present for a Day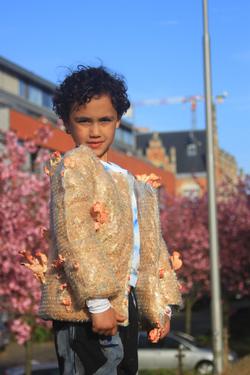 After the holiday the jacket started to flush for its first time. It looks fairytaily beautiful. the mushrooms started to grow and their Pink spores made beautiful patterns on the plate. Even in the small bubbles of the plastic where mushrooms growing while they where searching for air.
Work made by Hamer Kormeling at Laboratorium
SEBUM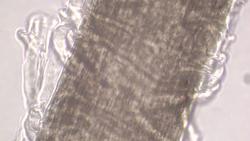 SEBUM, Brenda Lou Schaub in collaboration with Moussa Cheniguel, Quentin Lamouroux and Florian Ortega
Sebum is the fat we can see if we don't wash our hair for a long time, it is natural fat we all do produce. Sebum is a typography/logo with the word sebum, two videos, a 3D model of the skin with sebum and one text on an iPad fixed on a structure which usually used is for showers.
Work made by Brenda Schaub at Laboratorium
Thomas Vancoppenolle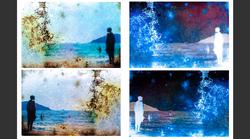 Once photographed however, the depth of this physical object is reduced to a singular surface again. But when looking at these photos once they have been scanned and edited, a sense of imperfection rises. Apart from the fact that we cannot see a physical depth, a kind of doubt is raised when confronted with this image. Despite seeing 'one' image in front of us, the viewer is urged to think about the aspect of time that might have been needed to realise an image of this kind.
Work made by Thomas Vancoppenolle at Laboratorium
Shi Chen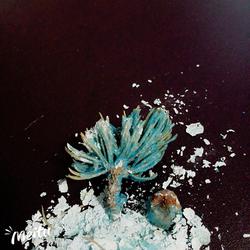 Although the intention was to make sort of thing like the amber, all these artistic works make me remind of the Chinese luxury jewelry. The blue-burning process (Shao lan) is based on silver, and is made of enamel-fired handicrafts. It is best known for its blue glaze and silver match. It is one of the traditional jewelry crafts in China.
Faro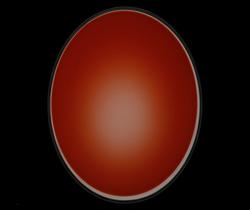 Experimental movie based on Belousov-Zhabotinsky reaction. Elias Heuninck (Formlab), María Boto (Laboratorium), 2017, 3.
Work made in collaborabation between Elias Heuninck and Laboratorium
Tierra de Diatomeas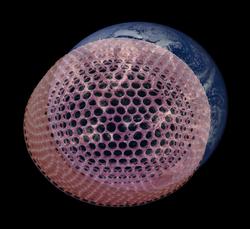 Land of Diatoms, a project by Susana, Inés Cámara Leret and María Boto Ordóñez to investigate the relationship between human beings and Castilla and León geographic areas. This research is part of a collaboration with the Laboratory of Diatomology of the University of León, in which diatoms are used as a metaphor to create a dialogue through which to discover historical events, trace existing narratives and discuss desirable futures for the land, its waters and its people.
Due to the high sensitivity of diatoms to chemical changes in the water, these microorganisms are used to analyse ecological parameters such as the quality of the water. Thanks to the fact that diatom cells are covered by a silica wall, they are fossilizable, and through their study, it is possible to analyse agricultural cycles marked by the arrival of the Romans, the Industrial Revolution or livestock farming, for example. As a consequence of their easy dispersion they can be found in any environment, not only in places where there is or there was water. At the same time, diatoms also help to outline a map of invasions through the study of the migration, dispersal and propagation of species as a result of human activities.
Land of Diatoms has been accompanied by researcher Dr. Saúl Blanco Lanza (Diatomology Lab from the University of León) and botanist Dr. Estrella Alfaro. It is commissioned by LAB987 at MUSAC, supported by Universidad de León, represented by the Area de Actividades Culturales and Departamento de Diatomología from Facultad de Ciencias Biológicas and The University College Ghent, School of Arts KASK.
KWEEKGOED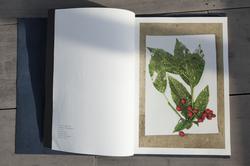 For five generations of Hofbouwers in Martha's family a lot of information and knowledge was passed on. This information has been bundled in an archive over time. She is the first person in the family who has not been brought up to take over the company, which makes her aware of the loss of tradition. This work is a reinterpretation of the existing archive and makes this knowledge susceptible to the present and future generations. Cultivation is a collected work of seeds, alias and technical terminology that forms in an installation with seeding trays, Alaam, Herbarium, Dictionary, Soil samples, etc.
Work made by Martha T'Hooft presented at Laboratorium greenhouse